Create Your Very Own Rolex Repository
Are you in the business of dealing in refined and expensive products such as Rolex watches? If so, you need the best available security to protect your assets. Having a luxury watch safe will not only keep your collection safe, but also add elegance to your surroundings. Luxury safes use quality bespoke materials that provide the right balance of security and design to fit your needs. Here are some of the benefits of owning a luxury watch safe, and our advice to help you create your own Rolex repository.
Benefits of Luxury Watch Safes
Bespoke safes are custom made to store your specific assets securely and safely, completely personalised according to your own needs.
All luxury safes are made to comply with approved Eurogrades, as established by the Association of Insurance Surveyors (AIS).
Each safe is hand made by the finest British craftsmen. They not only function securely, but also add style and finesse to your premises.
A team member will work closely with you and provide you with expert advice to ensure that all of your security needs are properly met.
You can choose from a range of different locking systems that suit you, both digital and key locking.
There are many different finishes available including wood, leather, Alcantara and more. You can choose from a range of 1,600 colour finishes in matt or gloss, as well as several 24 carat gold handle designs.
Finally, a good quality luxury safe will keep your assets safely under your control, whilst also lowering insurance costs.
What To Look For In A Luxury Watch Safe
1. Size
Whether you need something as small as a deposit box or as large as a walk-in safe, you need to consider the size that will most effectively protect your assets.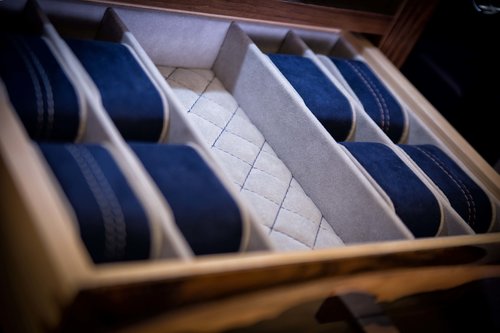 2. Weight
The larger the safe, the heavier it will be. This will prevent thieves from taking off with the safe, but it may become difficult if you need to replace it or move locations.
3. Design
How well does your safe contribute to the interior design of its environment? Making sure it fits within its setting means it will not only function well but look superb at the same time.
4. Cost
Bespoke luxury safes are not cheap, so it is important to take note of your budget when planning your purchase.
5. Internal Space
What sort of internal parts and storage spaces does the safe have? Are they suitable for holding your Rolex collection? Do they have built-in winders? A good quality watch safe should provide easy access and a good overview of your assets whilst keeping them well protected.
Why Use Trident Safes?
Here at Trident Safes we have over five decades worth of combined experience in the safe and vault industry. We offer a range of bespoke luxury safes in any shape, size or colour you desire. We are not only able to advise and guide you through your purchase but the delivery and installation is kept in house with our own engineers so complete confidentiality is guaranteed. To find out more about our luxury safes visit us online or contact us via phone. For the best quality luxury safes for your Rolex collection, contact Trident Safes today.