The Differences to Consider When Choosing Home and Office Safes
A safe is an excellent investment if you want to improve the safety and security of your premises. But as not all safes are made the same, you will need to consider the differences between home and office safes. Factors that can help you decide on the best safe include what you plan to store within, the value of the content, and how active your premises are. Here is our guide on what to look at when buying a safe for your home or office.
What to Consider When Choosing a Safe
There are certain factors to consider when choosing a safe for your home or office:
The value of the contents within the safe should determine the level of security you need. While you could buy a basic safe for all your valuables, you may be denied the full amount of an insurance claim if the value of your contents exceeds the Eurograde rating of your safe. Businesses, in particular, need safes with a Eurograde rating of 5 or 6, while home safes may only need a low Eurograde rating. Make sure you calculate the total value of your contents before purchasing your safe. You can find out more about Eurograde ratings in our guide.
How much regular foot traffic your home or office gets is another factor to consider when buying a safe. Businesses tend to see more frequent traffic than homes do, which usually means that more people will have access to valuable items. Therefore, safes in businesses need a higher security rating to avoid the risk of tampering. As a home generally has fewer people and less activity, security need not be that high.
The size and structural needs of a safe is another factor to consider between businesses and homes. A business safe might require more space than a home safe, and in some cases a full security cabinet might be needed for keeping documents, cash and other valuables secure. Home safes don't often need such heavy security, especially for a single person or small family.
What to Keep in Your Safe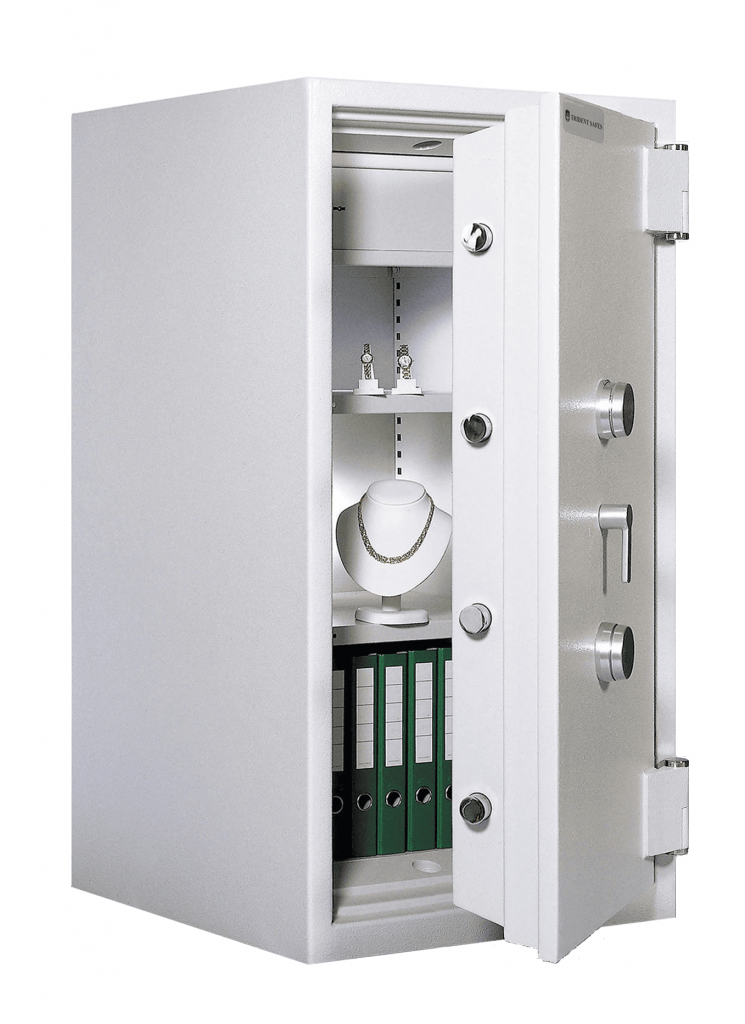 When it comes to home and office safes, both will differ according to what items they need to protect. Typical contents to keep in a home safe include:
Insurance information in case of property damage.
Medical documents, including contact information for doctors, and details on medicines needed.
Birth certificates.
Passports.
Copies of wills.
Financial information, such as bank accounts and investments.
Property and vehicle documents.
Any additional legal documents.
Valuable keepsakes, including jewellery and photos.
When it comes to office safes, the following items are more typically stored:
Insurance policies and agent contact details.
Business financial records.
Investment and bank account records.
Debts, due dates and related contact information.
Keys to a bank or safety deposit box.
Confidential work documents.
Assets such as valuables and equipment.
Petty cash.
Whatever you need to keep in your safe, make sure you have the security level to match.
Trident Safes
To find out more about our wide range of safes and safe deposit boxes, please contact us today.