Keeping Your Business Documents 'Safe' From Fire
One of the most devastating things that can happen to your business is loss from natural disasters, especially from fire. According to the UK Home Office, there were 11,182 fires attended at non-domestic properties in 2019 alone. That is why it is vital to invest in a fireproof safe to protect your documents, data and business. So, what are the potential fire risks to your business and how can fireproof safes help? Let us look at some of the hazards that you can find in the workplace today.
Potential Fire Hazards in The Workplace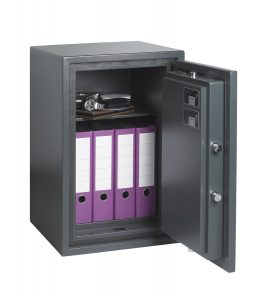 Fire risks can come from several sources in the workplace. Here are a few to watch out for:
Faulty electronics
Wherever you go in the office, any piece of electronic equipment can be a potential fire risk. Computers, printers, fans, and even food processing equipment like microwaves and toasters can be a possible hazard. Any loose wires or internal faults could spark a fire, so it is vital that you check your equipment regularly.
Human Error
Accidents in the workplace happen all the time, and sometimes these can turn into full-blown disasters. Leaving a piece of equipment on for too long or misusing it in some way could be the spark that starts a workplace fire. It is vital that all staff comply with health and safety procedures to protect their workplace, themselves and fellow workers.
Flammable material
While flammable materials may not be the cause of a fire, they will help spread it. Such materials include paper, certain liquids and aerosols, wooden furniture, and so on. All of these things can cause a small fire to turn quickly into a blaze.
Benefits of Having a Fireproof Safe
While it is vital to find ways to minimise risks in the workplace, one important investment to make is a fireproof safe. Installing a fireproof safe will provide the following benefits:
Heat resistant
These safes can withstand extreme heat from between 30 and 120 minutes, depending on the type of safe. They can also add protection against smoke damage to your items.
Highly Durable
These safes are strength tested so that if they fall through any floors, the contents will remain undamaged.
Waterproof
In addition to being fireproof, these safes will protect the contents from water damage.
Multiple Locking Features
In case of a fire these safes need to be able to lock shut quickly and efficiently. As such, they come with several locking options including key locks, electronic locks, and more.
Electromagnetic Protection
The safes are made from materials that ensure the safe and its contents are protected from forces such as electromagnetic fields and static electricity.
Using Trident Safes
At Trident Safes, we have years of experience supplying and installing safes for clients in all industries. To find out more about our range of fireproof safes, visit our online store. Or, for more information, contact us via our online form or phone us direct. For quality safes that will keep your documents safe from fire, contact Trident Safes today.