Reasons Why a Small Jewellery Safe is Handy
It's surprising how much difference a small jewellery safe can make to your peace of mind. If you own jewellery or other small but valuable items, you'll want to make sure that they're kept safe. But people who steal are experts at finding 'safe' places in your home, so why leave your valuables at risk?
At Trident Safes we're experts at making safe places in your home a reality. From documents and antiques to diamond earrings, it's our mission to keep your possessions secure. So, read on to discover more about the benefits of a luxury home safe.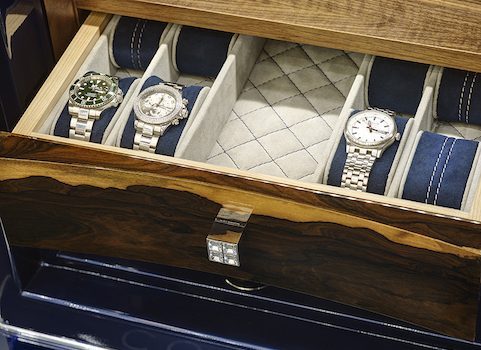 When do you need a safe?
If you own expensive jewellery, luxury home safes are not an extravagance. On the contrary, securing your valuable items is a necessity. Professional thieves are good at gathering information, and many burglaries are targeted. If it's known that you own a safe, they're likely to pick an easier target elsewhere.
Although insurance will help with financial loss, the items themselves are often irreplaceable. This is especially true when jewellery has been handed down through a family. The only real insurance for such objects is to prevent them being lost in the first place. And the best way to do that is by securing them in a small jewellery safe.
Peace of mind
A small jewellery safe will help you rest easy at night or when you're away from your home. You can feel safe in the knowledge that your precious items are secure and protected. Why expose yourself to anxiety when an efficient, cost-effective solution is readily available?
A safe for your jewellery is also the ideal way to keep your valuable items organised and in one place. Avoid panic over that mislaid necklace by knowing exactly where to find it. You're not only buying a jewellery safe, but also peace of mind, and that, too, is valuable.
Designed for the job
With Trident Safes, you can choose a small jewellery safe that is designed specifically for the task. We have options that feature a soft interior lining to protect delicate and valuable items from damage. We also offer bespoke safes with the required number of winders and drawers for jewellery or expensive watches.
Hand-made in Britain and approved by the Association of Insurance Surveyors, our luxury safes are rigorously tested. Only then are they certified for their outstanding strength and security.
Security with style
When we think of safes, we tend to imagine unattractive metal boxes. At Trident Safes, we understand that many people are looking for security with style. That's why we offer a huge range of elegant paint and wood-style finishes.
Handles are available in three designs. And if you want your safe plated in 24 carat gold, that's not a problem. For the interior, you can choose a mix of wood veneer, luxurious leather or stylish fabric.
Take a look at the range of small home safes available to order online from Trident Safes, or contact us and let us help you find the perfect small jewellery safe.